I had a good outdoor run!!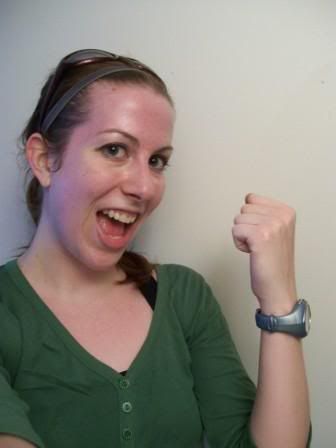 Here I am afterwards tomato-faced and pumping my fist out of excitement. The stats:
Duration: 40 minutes
Calories: 420 (that includes my warm-up and cool down)
Max HR: 166
Avg HR: 149
Distance: 3.93 miles
Avg Pace: 10:10
Avg Speed: 5.9 mph
Yay! So what finally led to this? Great weather, a great route and walking breaks. By the time I got out, it was sunny and around 15-16 C (60 F). I chose a trail in the opposite direction of my normal route. It was a lovely path that took me down along the river. While it was in the trees and very "nature-like," a main road was still nearby and civilization was just behind the tree cover. I've noticed one thing that gets me through my treadmill workouts is my quick 15-20 second water breaks every 5 minutes. That way, I'm only running 5 minutes at a time in my mind. So I used the same technique yesterday. Before, I was just setting out to run 30 minutes straight and I wasn't tricking my brain into thinking it was less. I think that's why I was burning out so quickly. Oh! And I saw a beaver!
The weather is still up in the air for tomorrow (figuratively, and literally). But if it's nice out, I'm going to try to take my long run outside
Now, it's food time. I tried out a different kind of Bumble Bar while at the computer lab yesterday. I should say "snuck" because we're not allowed food or drink in there. Verrrry sneak-y.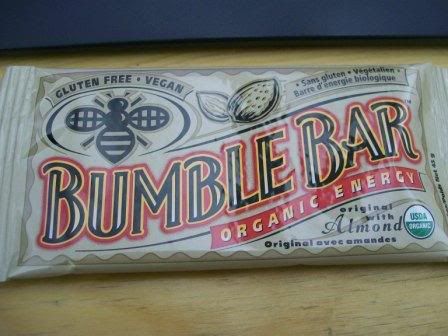 This one had almonds in it. The taste difference was subtle. Although I think I may prefer the original kind.
I know it looks hard and crunchy, but it's actually ooey-gooey! I looooove sesame seeds, and I like the high fat content of the bars because that's where my diet is usually lacking.
Lunch was another stellar sandwich on the last of my homemade bread (time to make more!).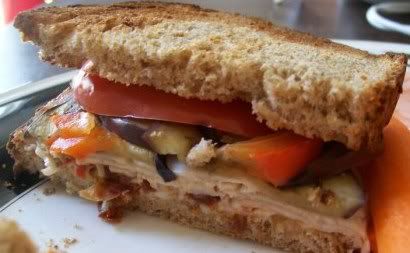 I used a laughing cow cheese wedge mixed with a chopped sun-dried tomato as the spread, then added two slices of deli turkey and some grilled eggplant and red pepper. 
YUM. So good. I think if I had to choose, sandwiches (and wraps and pitas) would be my favourite food.
I went for my run after this, putting back lots of dried fruits, banana and nut butter before and after. Once I rid myself of the tomato face, I got started on dinner. Jerk mahi mahi and bulgur with black beans.

Another great meal! Plus, I made extra bulgur so I'd have leftovers
I haven't been showing my evening snacks lately because they tend to be repetitive. But last night's was so tasty, I had to share.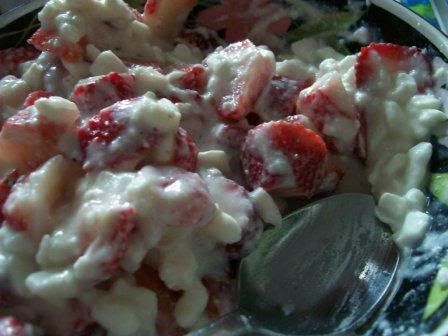 Pretty simple, just strawberries, cottage cheese, ricotta cheese and honey. But it was seriously heaven in every bite. The honey was definitely a nice touch.
I thought I'd also share everything I packed with me to eat at work today. I usually bring three meals/snacks, and today's required maybe two minutes of preparation last night.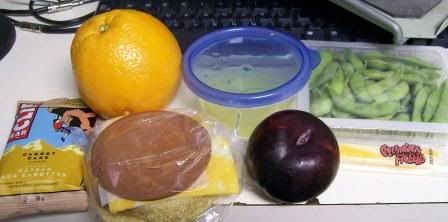 (Excuse the wires and stuff in the background. I'm surrounded by it, working in broadcasting)
So as you can see there, I have a Clif bar, orange, a baggie with an english muffin, facon slice and cheese slice, 1/4 cup egg whites in a tupperware container, a plum, cheesestring, and a package of edamame. 
Since I have to be at work for 5 am, I like to bring a small breakfast to munch on while going through e-mails and messages. I can't seem to stomach a big breakfast at that hour. This morning, I had the carrot cake Clif bar.

Around 7:30, I assembled a breakfast sandwich by toasting my english muffin, and microwaving my egg whites and facon.
I ate this with the orange, which was disappointingly small. Naval oranges always look huge, but then shrink significantly once I remove the thick peel. Boo
Snack time rolled around at about 10 am. This was actually my first time trying edamame. It was so good.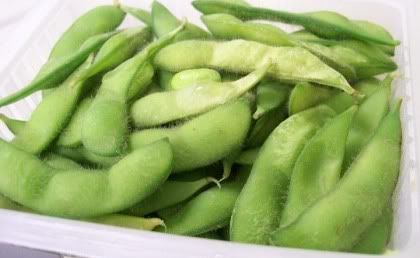 I found a frozen box of it at the Superstore that had four single portions in it. So great for snacking on at work!! I also had the cheese and plum with this.
Well, that's it. I just ate a boring tuna pita for lunch. It's currently 23 C (!!!!) outside, so I'm going to take a leisurely walk downtown and put up my sister's band posters. Even though it's a rest day, I can't not be outside on a day like today.
I also want to take a moment here to send my thoughts to Jenna and her family. While I've never met Jenna, I feel like I've gotten to know so many people through their blogs over these past few months since I joined the blogging community. Jenna is a great spirit and always full of positivity. It breaks my heart to know she's lost her brother at such a young age. Humans are stronger than we sometimes realize, and I know she'll get through this.
Take care and enjoy the day!